Key Ring for Tesla Model 3 / Y
Regular price
$119.00 USD
Sale price
$119.00 USD
Regular price
$99.99 USD
Estimated Delivery:Dec 23 - Dec 27

Free Shipping & Returns: On all orders over $100
Product description
Shipping & Return
Smart Ring Accessory for Tesla Model 3 Model Y RFID Technology Key Card Key Fob Replacement
Your smart key ring is the perfect replacement for your original Tesla Model 3 key cards. So you won't need to buy additional key cards, key card covers, and key fobs. It's also a great way to save some space in your pocket, your handbag, or your purse.The smart ring is an NFC/RFID enabled passive ring. It has no battery, so it doesn't need to be charged. All you need to do is pair it with your Tesla and it replaces your smart card or phone for easy access to your Tesla Model 3 Model Y.

The real Tesla smart card NFC (Near Field Communication)
Your Tesla Model 3 Model Y comes with an RFID reader implanted into the center of the driver-side B-beam. The term RFID refers to radio-frequency identification. The implanted RFID reader uses electromagnetic fields to automatically identify the electronically stored information in your smart ring. And meanwhile, the smart ring accessory collects energy from the RFID reader's interrogating radio waves. Compared to Tesla key fob and any other key fobs, there is no charge and battery needed for your smart ring.

Zirconia Ceramics Smart Ring Accessory for Tesla Model 3 Model Y
The ring is made of hard-wearing ceramic to ensure no degradation of the wireless communication with your Tesla. Zirconia ceramics has the lustre of natural gems and the nature of high tenacity limit, high bending and wearing resistance and great heat insulating property. Its coefficient of heat expansion is nearly equal to steel. Therefore, there is no need to worry about your smart ring accessory will be worn out or scratched. It's also medical degree safe, non-toxic and doesn't pose any harmful chemicals to human body as well.
Feature

 Unlock your car in style:  You don't need your smart card or even your mobile phone to access or start your Tesla. 

 Superb styling: The suave and sophisticated look of your smart ring ensures that it is never out of place when you are going for a run, playing tennis, going to a formal dinner, or spending an afternoon at your in-laws. 

 Perfect gift: A perfect gift for the special someone in your life, or most importantly anyone who adores their Tesla.

 Stunning presentation box: The ring comes encapsulated in a beautiful presentation box that accentuates the ring once opened.

 Easy Pairing with your Tesla: The ring pairs very easily in 4 steps and works without fail every time.

 Companion for life: Your Smart Ring is your best companion everywhere you go. 
Specification
Name: Tesla Ring
Material: Zirconia ceramics
Size: 6-12 US size (Conversion: 1 inch = 25.4mm or 1mm = 0.0393 inch)
Fitment: Tesla Model 3 2017-2022, Model Y 2020-2022
Width: 7mm
Color: Black / White
Tech: NFC
Battery Life: Passive device with no battery
Smartphone and Computer Operating System (OS) Support: Android, iOS
Smart Key Ring for Tesla Model 3 Model Y User Guidline

1. Tap the little vehicle button in the lower-left corner of your screen
2. Tap "locks"
3. Tap "+" your tesla model 3 or Model Y screen will show "add a phone key" or "add a key fob or key card"
4. Put the smart key ring on center console area where you put your key card,
5. The screen will show "tap existing key card to approve", then remove key ring and put your key card;
How to Measure Ring Size

1. Cut a string that is about 6 inches long.
2. Fold the string around the base of the finger, just below the knuckle.
3. Mark where the string ends with the pen.
4. Place the measured string on the ruler with the area marked on your right.
5. The number closest to the pen mark is the circumference of the ring in millimeters.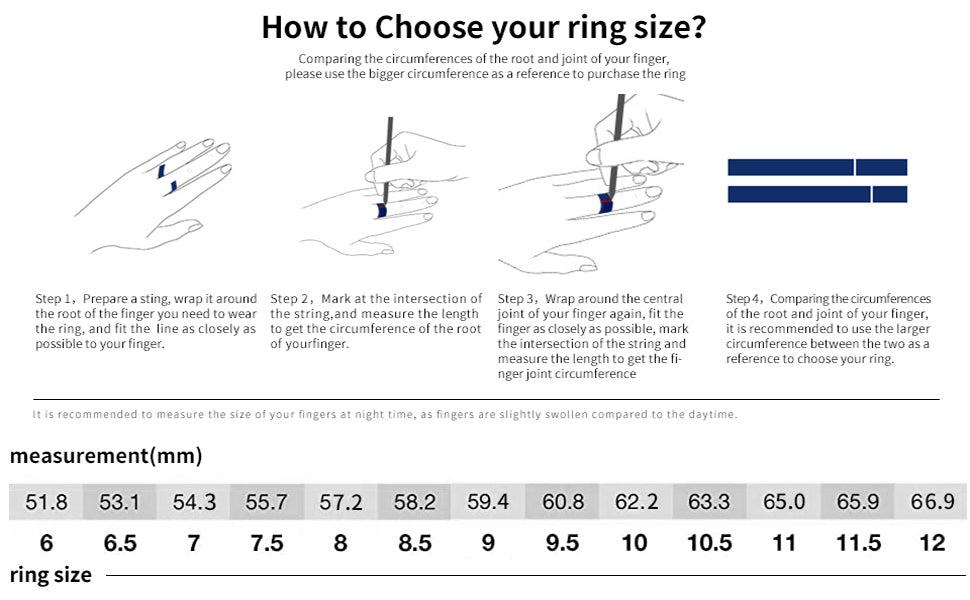 How to Lock/unlock Tesla on Correct Hand Position

Find the right sensor spot on the B pillar under the driver side camera.
The ring transmits a signal from a circle, therefore you have to touch your knuckle onto the B pillar (knocking position) and do not touch the ring directly to the car.
The ring is compatible with all Model 3 and Model Y vehicles. Access is granted from the driver side.
Package Include
1 Pc × Tesla Ring
1 Pc × Box
FAQ
Q1 - What is a correct hand position against the reader?
A1 - Tesla Rings have a unique antenna integrated circularly to assure the best performance, therefore the signal is transmitted from the ring circle and requires tapping knuckle on the surface, not the ring itself.
Q2 - How to activate Tesery Tesla Ring as a Tesla Key?
A2 - The procedure is very simple, the same as adding a Tesla keycard:
Go to the locks menu, hit the little plus, and follow the directions.
Please watch description.
Q3 - Do I have to charge the ring?
A3 - Tesery Tesla Ring never needs charging.
Q4 - How durable is Tesery Tesla Ring?
A4 - Our manufacturing technology guarantees the highest quality and durability, it's almost impossible to break Tesla rings by dropping or gripping.
Smart key rings are not weak. Most of your daily activities are fine.
Rings can withstand the shower or hand wash, as well as swimming.
No reason to refund within 7 days from the time of the logistics sign-off, no refunds after that time
If your item arrived damaged, please send us a very clear picture of the damaged through Email to info@acetesla.com and give us 6 business days for us to file a claim with the carrier. Once it's approved, we would send you a brand new replacement. If your item arrived is defective and you want to request a refund or a replacement, simply send an Email to info@acetesla.com within 7 days of delivery. We will issue your request as soon as receiving your email.

To return a product for a non-quality issue requires you to pay the shipping fee for the return. Besides, you will be charged a 20% restocking fee based on the retail price of the product. Once you have returned the product and after it has been fully inspected by us, we will refund your purchase price, excluding the 20% restocking fee.

To be eligible for a return, your item must be unused and in the same condition that you received it. It must also be in the original packaging.

Shipping charges do not include customs duties or taxes at your country. Shipping internationally does mean that you may be required to pay customs duties and taxes. All international customers are responsible for the customs duties within their own country. For further information, you may contact our sales.

Additional non-returnable items:
Gift cards
Downloadable software products
Some health and personal care items